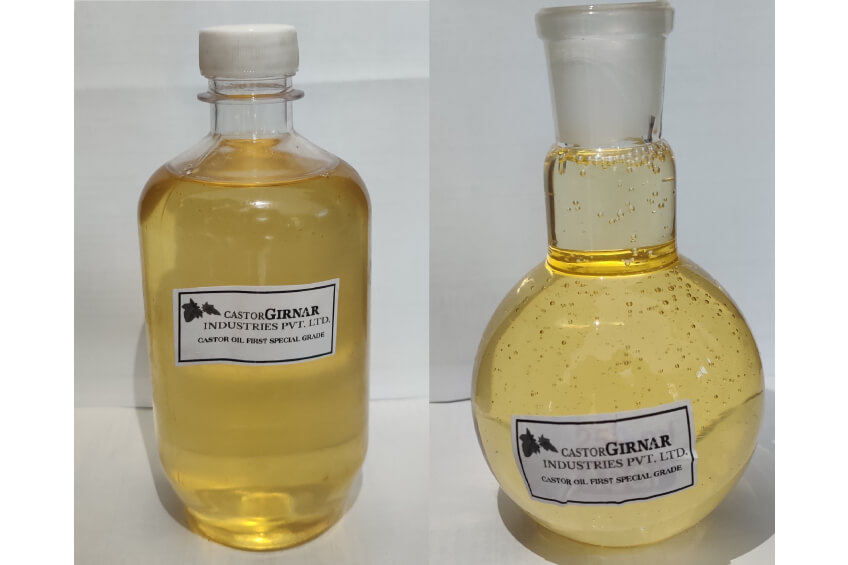 Castor Oil First Special Grade
First Special Grade Castor Oil is Castor Oil bleached to British Standard Specifications. It is a yellow viscous liquid free from suspended matter and insoluble in water.
First Special Grade Castor Oil is produced by refining commercial-grade Castor Oil by undergoing bleaching and filtering processes. Bleaching is done using bleaching earth and activated carbon, which helps to reduce color and Moisture content. First Special Grade (B.S.S) Castor Oil is a triglyceride ester of fatty acids, a major constituent being 12-Hydroxy Oleic Acid ( min 82% ). It is suitable for its hydroxyl functional groups in various chemical derivatization processes used in the manufacturing of medicinal intermediates & lubricants etc.
We manufacture, export, and supply superior grade Castor Oil First Special Grade that is offered in different packaging options as per the needs of the clients. This is processed under the guidance of skilled professionals keeping in mind defined industry norms. The offered Castor Oil First Special Grade is acknowledged for properties like purity, effectiveness, accurate composition, and longer shelf life. In order to maintain its reactive life for long, this is offered airtight packaging.
Uses
Chemical Derivatization Processes
Manufacturing of Medicinal Intermediates & Lubricants etc.